January 8, 2018 - 12:01 am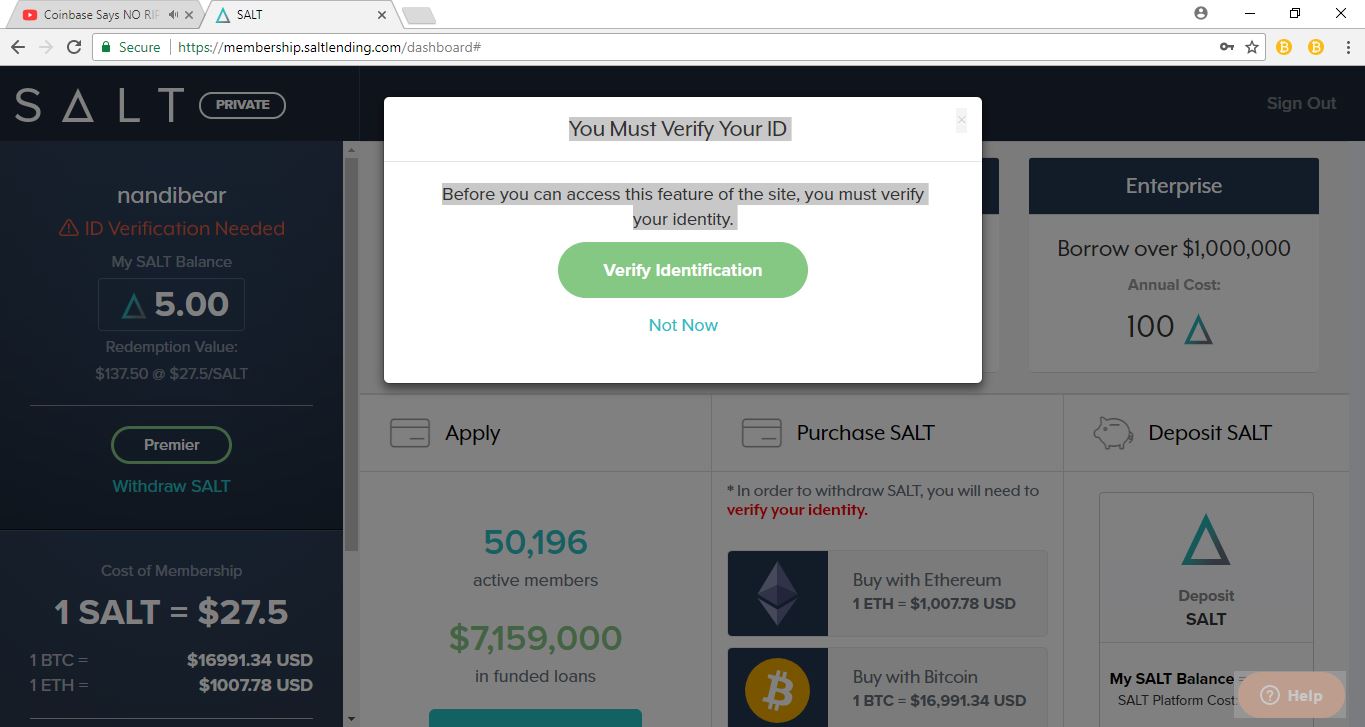 Got ID?

Saltlending.com now blocks withdraw of SALT coin from their platform
I like the concept of SALT and Salt lending but when I logged into my account yesterday at Saltlending.com I could no longer withdraw SALT coins from the web wallet.
This change was unexpected. However, I really and truly don't trust web wallets (or a website that you log into) so I didn't have too many SALT coins stored within the Saltending.com platform site. I keep most of my SALT in an Exodus.io software wallet (or desktop wallet):

It's unfortunate that Saltlending.com was not forthright and upfront with their policy to block withdraws of SALT coin.
It was understood from the outset that a similar policy would very likely be applied to receiving loans (e.g., US dollars sent to the customer's bank account in exchange for Bitcoin collateral). However, I don't believe that there was anything written (or any other indication whatsoever) regarding restricted transaction of SALT coins.
The only language which I remember that was at all related was something about identification being need if purchasing $2000 (two thousand dollars) or more of SALT from the Saltlending platform itself. However, the Nandi Bear never purchased any SALT from their platform (I traded Bitcoin for SALT through ShapeShift.io using my Exodus.io wallet). Moreover, the SALT which I transferred from Exodus to my Saltlending web wallet (sent 21 coins in total to the web wallet) has never been worth anywhere near $2000 dollars (not even using the platform's overpriced value of $25.00 (and now $27.50) per SALT coin (it's never been above the 'teens on any public exchange).
Apparently it may take weeks (or longer) for the Saltlending platform to verify identities. After I provided my personal information and identification I received an alert which uses ambiguous language:
You are now pre-approved to become a SALT member. SALT membership withdrawals will be accessible after your final approval. Expect to wait up to approximately 15 days after final review.
My thoughts and observation regarding SALT's ambiguous language:
(1) Sorry, I'm not 'now a pre-approved to become a SALT member.' I've already paid you last month, twice (two times), for a membership. At which times (both of them) your platform told me that I was a member.
(2) What is the significance of this word-salad: 'SALT membership withdrawals will be accessible after your final approval.' Sorry, I don't need a SALT membership withdraw (whatever that is) and what is 'final approval' supposed to mean? I didn't need any approval to move SALT in, and out, of your platform before now.
(3) Please tell us how long review takes rather than telling us how long it will take 'after' the review: 'Expect to wait up to approximately 15 days after final review.'

Perhaps Saltlending.com had little choice but to block unverified identities from withdrawing SALT coins from their platform web wallet.
We must (or at least we should) consider the tax reform bill (Section 1031) (LIKE-KIND EXCHANGES OF REAL PROPERTY) which was passed by the 115th Congress and signed by President Trump and appears to be effective as of January 1st, 2018: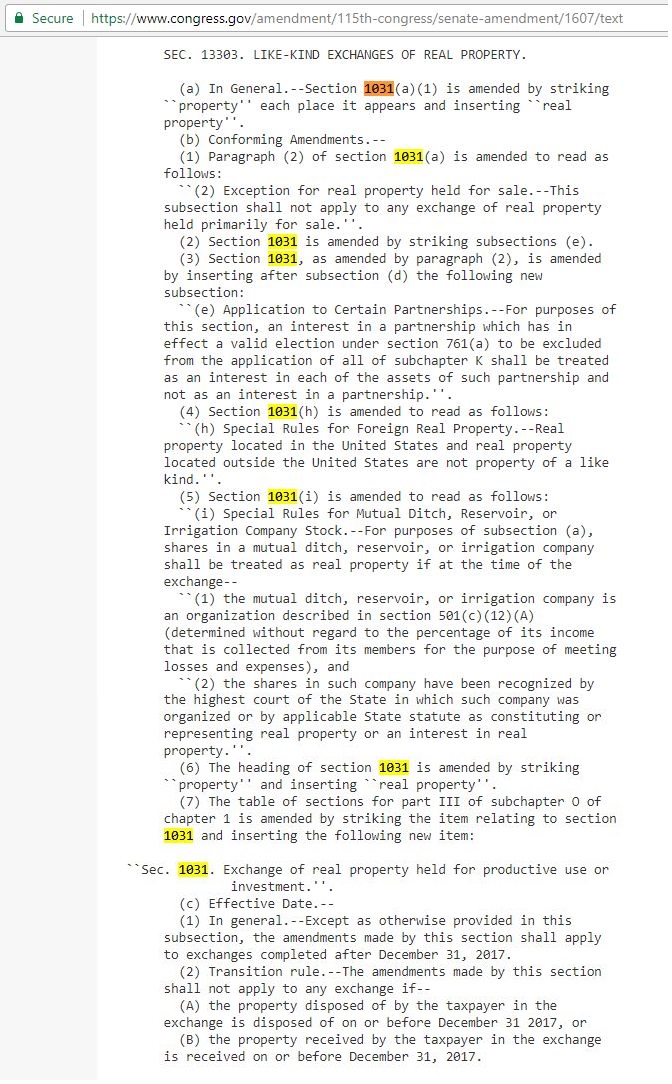 In any event I only have 5 remaining (of the 21) SALT within the platform itself.
1 SALT went for Base membership
10 SALT went for upgrade to Premier membership
5 SALT (the price is now 7 SALT) went to the purchase of a SALT Ledger Nano S: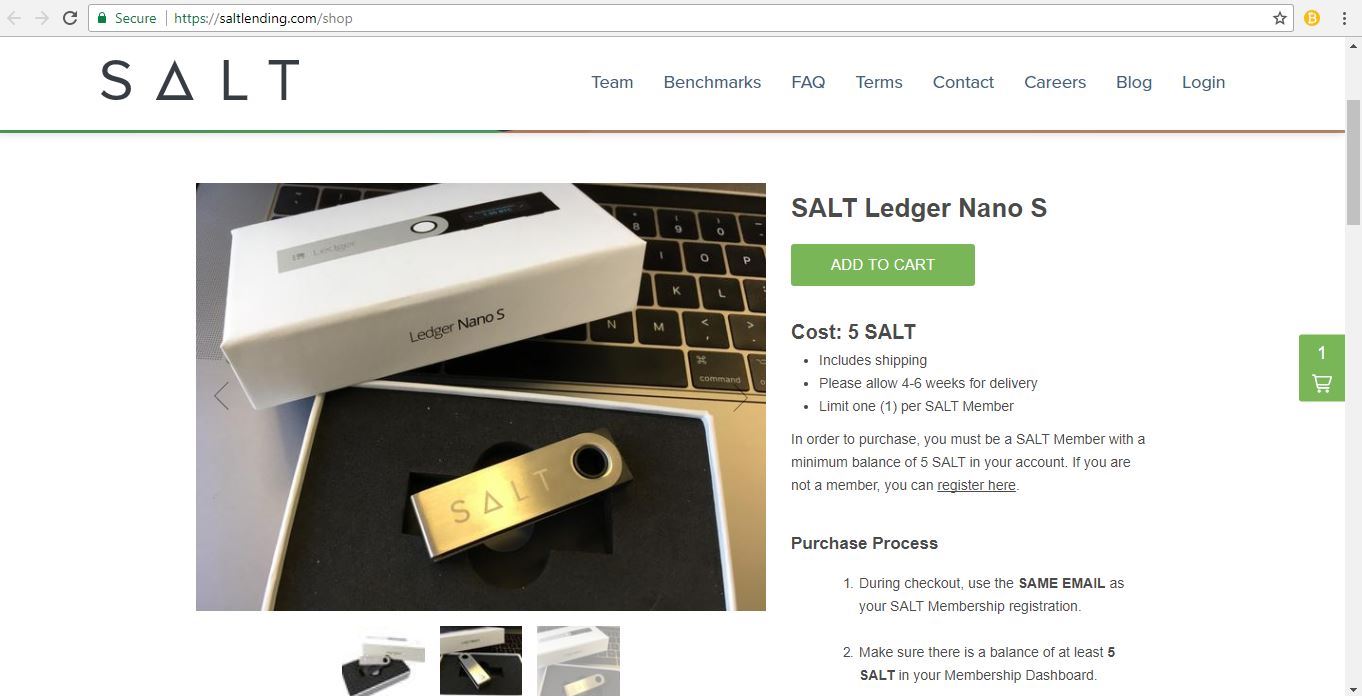 When I receive the SALT Ledger Nano S I'll take some pics and give my observation. If I've made any mistakes throughout any of the foregoing please let me know!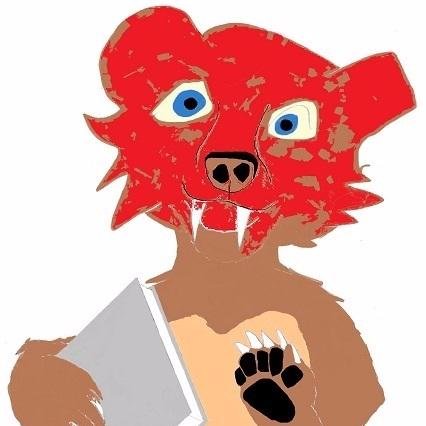 Thanks for stopping by and reading!
PLEASE leave some comments! Talk a little!
↓ --- You may also find the Nandi Bear at --- ↓